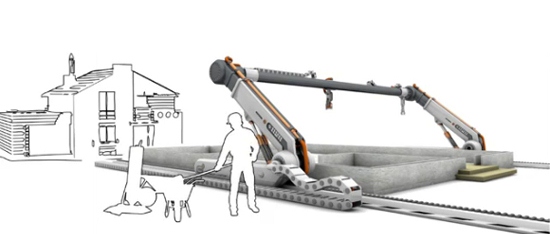 Spätestens seit Pirate Bay ihre Filesharing-Sektion für 3D-Objekte gestartet hat (mehr Info dazu hier) sollte jedem klar sein, dass dieser Wissenschaftszweig einer von denen sein wird, die in den nächsten zehn Jahren unser aller Leben komplett neu durchwürfeln werden. Nette Vorstellung: Die Klappe deiner Fernbedienung Nummer 18 ist schon wieder weg oder kaputt oder von der Katze verspeist worden. Also suchst du dir auf Pirate Bay (oder sonstwo) die passende 3D-Druckvorlage raus, wirfst deinen Maker an (wenn er nicht gerade auf Trip ist) und druckst dir einfach eine neue. Soweit so spannend. Next: Druck dir doch gleich ein komplettes Haus aus.
One construction technology that has great potential for low-cost, customized buildings is "contour crafting — a form of 3D printing that uses robotic arms and nozzles to squeeze out layers of concrete or other materials, moving back and forth over a set path to fabricate a large component. Structures would be quicker to make, reducing energy and emissions.
Material rein, Haus-Vorlage rein, ab dafür. Und öko-technisch soll das alles auch voll im grünen Bereich liegen. Spannend.
UPDATE: Schaut doch auch mal beim Olaf vorbei, der hat nämlich zu dem Thema einige weiterführende und spannende Gedanken zu runtergetippt…